How did we find each other?
We met each other in the early nineties as colleagues. For a while both our careers were in sync, and then after a few years we each chose a different path. At the end of 2007 we were both looking for new challenges and started talking about collaboration.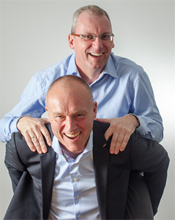 During a long walk through the dunes from Noordwijk to Zandvoort in March of 2008, we quickly came up with a crucial question, which to this day determines what Groen van Solinge stands for: "Who do you go to in The Netherlands when you are a professional in the world of pensions looking for employment?" Hearing no answer, we jumped in.
We started in September of 2008. Our incentive was to create a stable, sincere, critical, reliable and honest agency. Our values and standards are anchored into our company. We are very proud that even during difficult market circumstances we still managed to develop ourselves into a renowned agency for pension and risk jobs.
Are you excellent in an environment,
which is constantly moving? More
Do you advise and assist clients in the field
of pensions and income? More
Looking for another vacancie?